Lane Partners plans to convert the Sears building into a retail and tech hub in the heart of Oakland's booming Uptown neighborhood.
The real estate investment firm, based in Menlo Park, beat out several bidders and paid $25 million or about $63 per square foot for the historic, 400,000-square-foot building at 1945 Broadway from Sears Holding Co.
The firm plans to renovate the six-story structure to house a space large enough for a major tech tenant and rebrand it as Uptown Station.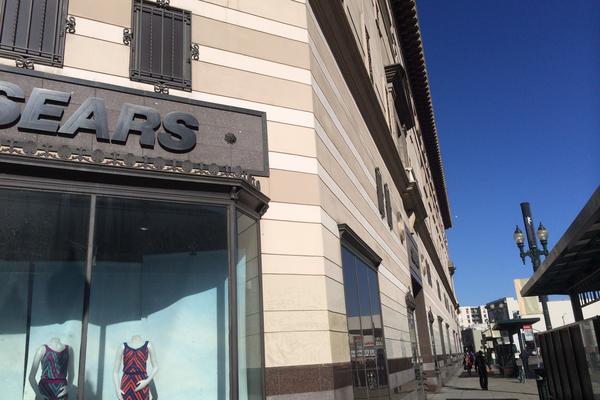 "Uptown Station will be embraced by the tech sector due to great architecture, new technology, collaborative space and a great live/work environment," said Scott Smithers, managing principal of Lane Partners.
The property, built in 1925, features 66,000-square-foot floorplates and currently houses just one tenant, a Sears department store, on the ground floor. Sears plans to vacate the space within 90 days.
Smithers said the spacious floor plans, historic architecture, and expansive windows make the building ideal for "creative space" that many technology tenants want. That type of space has become scarce in both San Francisco and Oakland — especially in the range of 350,000 square feet.
The building also sits right on top of a BART station and is located in the middle of Uptown. The area has become a thriving entertainment district. Over the past several years, dozens of new restaurants and bars have opened, as well as hundreds of new apartments and condos.
"For location, it's a no-brainer," said John Dolby, an Oakland broker with Cassidy Turley. "If (Lane Partners) makes the building into creative space, it will be very desirable."
Some tech companies like Lyft, a maker of an app for car sharing services, looked in Oakland, but couldn't find a large enough space.
"(The Sears building) will be great for downtown Oakland and is going be able to attract a tech company from San Francisco," Dolby said.
Now that the deal closed, the rehab is next. Some of the building's windows were filled in with concrete to make it more seismically sound, so Lane Partners plans to restore the windows to make them operable and install other types of seismic reinforcements.
"The interiors are amazing," Smithers said, noting that the floors come with 14 foot high ceilings. "We're returning much of the facade to the original look and feel."
The new owner expects to finish the renovations by the first quarter of 2016. Lane Partners plans to keep retail on the ground floor to "activate the street" and convert the basement level into parking.
Lane Partners already hired on a team of brokers led by Bill Cumbelich, a San Francisco broker with CBRE, to lease up the building.
The building has significant potential, said Alan Dones, managing partner and CEO of the Strategic Urban Development Alliance LLC, who tried to buy the building earlier this year, but fell out of contract. Another bidder, Strada Investment Group went into contract on the building after that, but they also didn't close.
"We had been looking in the Oakland market for a while, so when we heard about this building, we inquired about it," Smither said. "It was a competitive process that required an understanding of the building and for us to act quickly."
Source: Blanca Torres Reporter-San Francisco Business Times